Form Your Own Building Cooperative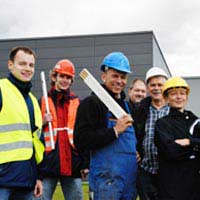 Working as part of a building cooperative to build homes seems the ideal project for those wishing to have a home but are hindered by the usual demands for self builders. Working together to build each house in the project brings the community together so that when homes are built the workers become neighbours.
Community Self Build
Working as a group to self build homes is an ideal project for those wanting a home but cannot self build via the usual routes. It may be that finance is a problem, perhaps lack of confidence or skills or even that credit ratings are not good which means negotiating a self build mortgage in the usual way would not be possible.
Unemployed
If a person is unemployed they can still self build their home and draw Jobseekers allowance as long as they continue to look for work while they take part in the community self build project. Those who work in community groups to self build have not usually owned their own homes in the past. They are made up from then low waged, the unemployed and people in or on the waiting list for social housing. It will be the housing association or local council that instigate the scheme and support the self builders.
Start the Ball Rolling
Contact your council or housing association and find out if they are interested in a scheme to form a housing cooperative. Make an appointment and take along evidence of other building cooperative schemes. Cut articles from magazines and print information from the Internet. If you do not have the facilities to do this ask at your local library for help with the research.
Building Plots
Take examples of building plots to the meeting and also cost out how much to build a house. Multiply your figures by how many homes can fit onto the plot to show the savings made to the self builders and the backers of the scheme. Remember also that by building homes you take pressure from the list of people waiting for social housing and free homes for other families.
Finance
The cooperative may not be able to borrow money like a self builder can but this is where the local council and housing association can help. They can both loan money to the cooperative and then arrange packages whereby each home builder buys a part share in their home or they can arrange mortgages for those on lower incomes that suit their income.
Skills
The skills learned by building a house can help the home owners to further their own learning and secure better jobs in the future or perhaps even go on to build more homes.
Community Self Build Agency
This agency works with groups and supports those wishing to form self build housing groups. They create ways for people to learn skills to build houses and advise local councils and housing associations to embrace the ethos of self building. The Community Self Build Agency also liaise with professionals and businesses to help train and encourage self building projects.
You might also like...