How to Be in Control of Your Home Build at all Times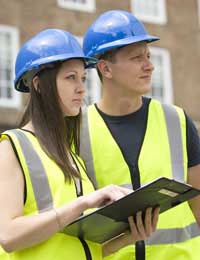 Building your own house can be a daunting experience. Whether you oversee the project or do it all yourself you need to be in control and let others know that you are the boss.
Hiring
When hiring staff you must show them that you are the one making the decisions. Interview every new person whether they are skilled tradesmen or someone there to labour for a few days. Make it understood that you are the person who decides on the work hours and breaks. Make a basic contract that shows the hours they are required to work, the pay rates and also when they are to be paid. You should also inspect their credentials to ensure that they can do their job and are qualified to work with gas and electricity.
Materials
There needs to be a stock control system in place for all materials ordered for the build. When opening a trade account with a builder's merchant make it clear that orders have to be placed with an official order number issued by you. The order can be emailed or faxed to them and collected by one of your workers or delivered to site. Never have an open cheque book system whereby anyone working on your site can go to a trade desk and order what they need. This can create problems such as over ordering, ordering the wrong items or petty pilfering.
Money and Accounts
No one but you should handle petty cash or issue cheques for the build. Check off any deliveries that come to site and keep account of them using a simple spread sheet system. Every item delivered to site has to be checked off by you and matched against the invoice when it arrives.
Firing
You must be prepared to dismiss any person who is not working on your site. As most workers will be self employed or a limited company they are there under contract to supply their services. By not doing this they have breached their contract and can be invited to leave the site immediately and be paid only for the time or service they provided.
Health and Safety
As the boss of the building site it is down to you to see that every person is following safety procedures. This could be simple things like signing in when they arrive on site and wearing a hard hat to knowing how to work with machinery or working at heights.
Socialising
Working alongside other people on what is your pet project should be enjoyable. You need to get along with your co workers but this does not make them your best friends. Ultimately you are their boss and as such there is a fine line between working with them and socialising. Be friendly but keep your distance, there is no need to spend every lunch hour with them or go to the pub every evening. It is hard to discipline staff or point out a mistake when the night before you were their best buddies. Remember, you are building your home not building a relationship.
Celebration
At the end of the build you will no doubt wish to celebrate that your project is at an end and you have a brand new home to show for all your work. This is the time to socialise with the staff you have hired to help build your home. This can be a civilised party in your new house for everyone who helped during the build. Close family of the builders could be invited so they have the chance to see what their partners have been working on for the past months.
Reference
As the boss of the project give each person who worked onsite a reference showing when they worked and a few words to show your satisfaction. Tradesmen need references and testimonials to show prospective customers and this is a good way to say thank you for good work done.
You might also like...