Building in Someone's Garden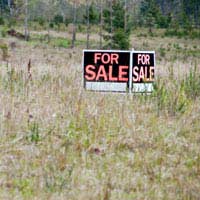 Building plots for self-build homes can be expensive and hard to find especially if you wish to build your home in the suburbs. When starting a search for the ideal building plot why not consider building in the garden of a homeowner?
Start Your Search
It is not often that someone advertises his or her garden as a building plot. You may have to advertise yourself. The classified section of a local newspaper in the area you wish to build should attract enquiries. Make sure that the advert shows that you are a private builder and not part of a larger corporation. If you are worried about advertising your home telephone number use a post box number.
Inspecting a Plot
When visiting the plot do not go alone. Arranging to meet a stranger by telephone does have its risks. Visit during the daytime, as you need to see the area that is for sale. Carry a tape measure and a notepad and make notes of the size of the plot. Try to imagine your home situated on the plot. By this time you will have an idea of what sized home you require. Be sensible and do not agree to buy the plot without doing your homework. If the plot is too small walk away and do not purchase it. You need a home that suits your lifestyle. Building a home takes time and commitment and if you have to move too soon the project would not have been worthwhile.
Permission to Build
You must check that the person selling their garden actually owns the house. Your solicitor should be able to undertake this task for you but it is easy to do by contacting the Land Registry and making an enquiry. Do not pay a deposit or hand any money over until you are sure that the build is possible, even then arrange the contract through a solicitor so that everything is legal.
Planning Permission
If the plot already has outline planning permission for a house to be built your work is almost done. The cost of the plot will reflect this though. If you need to apply for outline planning permission take a visit to the planning department that covers the area the property is situated in and ask if they feel you have a suitable project. Show them your notes and check whether they would allow an entrance to the property from the road, especially if it is a back garden and your main exit would be through an unmade passageway usually only used to access back gardens and garages.
Utilities
Check that you have access to the sewer and other utilities. It is not unusual for the owner of the garden plot to assure you that you are able to link into their sewer system and then find it is not possible and will cost you more.
The bonus of building in someone's back garden is that you have the security aspect covered. A water and electricity supply is close at hand subject to negotiation and probably a supply of tea and coffee as well. Hopefully you will bond with your neighbour during the build and start you life in your new home with friends nearby.
You might also like...