Keeping Records and VAT on Your Self Build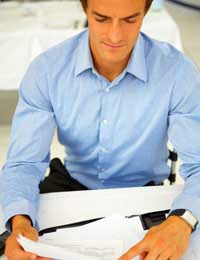 By keeping records of all transactions and occurrences from day one your cash flow and finances should be under control.
Accounts
By keeping a simple set of accounts you will be able to see if the build id running to budget. If you are exceeding the budget plans will have to be made to extend your borrowing or cut back will need to be made with a later part of the build.Enter every invoice after checking that it has been calculated correctly. Show the VAT element, as this will be needed to claim your VAT back at the end of the build. Also ensure that any trade discount you have negotiated has been given.It may be easier to set up a spreadsheet on your computer for the accounts. Give each receipt a number and file these in numerical order.
Health and Safety
An accident book is required. Keep this with the first aid book and enter any accident however minor. Ensure that the injured person signs the entry and dates it.
Site Records
Keep a book that records all visitors to the site. Ideally they should sign in and sign out each time they visit.
Correspondence
There will be a lot of correspondence during the build. Start a folder for this paper work, as it will be invaluable if a query arises.
Certification
During the build you will receive certification from your architect. It is essential that these are kept safe, as they are needed to claim stage payments from your building society or bank. Also, when you come to sell the house these can be shown as proof the house was built correctly.
Bank
If possible open a bank account just for the self-build keeping all statements and correspondence together in one file. This will help your cash flow calculations and make communication with the bank easy to maintain.
Photographs
Take photographs and place them in an album to show a graphical story of the building of your home. Photographs are also handy should there be a question mark over any part of the build. If you are unlucky enough to have a boundary dispute with a neighbour or fall foul of the planning department a photograph can be used in evidence during an appeal.
Diary
Many people like to keep a diary of the build. This is useful to look back on in years to come and also for reference if you should choose the self-build again. Blogs or websites are a new way of recording your build and attract interest from others on the World Wide Web.
Media
By keeping careful records of the build it is possible to sell your story to the media. Who knows, you may end up reading about your house build in a magazine or talk about it on television.
Help
There may be a member of your family who can help with the record keeping during the build. This would suit someone who is not physically able to give hands on help labouring. Perhaps an older member of the family who would then feel part of the self-build experience would be suitable for this job?
You might also like...