Self Building an Unusual Home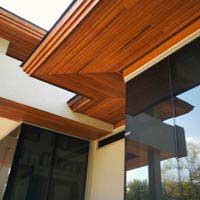 Dreaming of self building your home could be a very different prospect to actually building it. Perhaps your plans include a strange shaped house or a replica of an ancient building. The planning department and your new neighbours may have something to say about that.
Big Ideas
There have been many television programmes as well as books that show enormous houses made of glass, replica water towers and strange shaped homes based on Victorian follies. These types of homes are rare, that is why they are written about or appear on our screens. When it comes down to self building your home your dreams may be broken before you lay a single brick.
Buying a Plot
When purchasing your building plot it may come with outlying permission for a house. This does not mean that you can build any form of house on your new plot. Any changes to the original design either external or internal will have to be run past, planning experts and councillors at your local council offices. If there are any concerns building inspectors will be called in to comment and your proposed build will drag on as it is discussed in meeting after meeting.
Near neighbours to your plot will automatically be notified of any development in the area whether it is a simple home extension or the erection of a new housing estate. They will all know about your home and will also be able to view the plans that are held at the council offices. Your dream build will become an open secret so why not make friends with your new neighbours and dispel any fears they have that may well hold up a planning application. A barbecue on the site to get to know your neighbours will give you the opportunity to explain why you wish to build a lighthouse in an inner city brown fill site or erect a glass tower.
The Design of Your New Home
Most likely your design will have to fit in with surrounding homes, boring but true. If you wish to erect an unusual home pick a quiet non residential and seek the help of an architect who specialises in such structures. This is where those build your own home programmes can help. Contact the production company, the Internet is ideal for this type of research, and ask for the architect that supervised the build. He or she will have a wealth of information to guide you through your dream until it reaches fruition.
Profit From Self Build
It is well known that the value of a self build home increases by around thirty percent upon completion. This is due to the saving on labour and building costs as many self builders attempt a lot of the work themselves. This includes the fact you are able to make a one off claim for VAT spent on the build. If your plans are grander and the home unusual the chances are your home and your dream will cost more in both materials, and expert advice.
You might also like...