A Semi Detached Self Build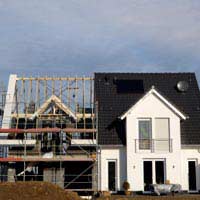 When considering self building your home why not think about building two houses? There may not be room on site for two detached homes but by building two semi detached houses you will be able to live in one and sell the other.
Semi Detached
Ask yourself if you will be happy to build a home that is still linked to another house? What will you do with the other home? If it is sold will you be happy for strangers to live in a house you built? Will the new owners be able to live next door to the person who built their home without constants requests for repairs and alterations?
A Cheaper Build
Obviously it will be cheaper to build two semi detached houses rather than two detached. The profit will be higher on two semis rather than one larger detached house. Shared central wall, labour already onsite and a bigger discount when buying materials will all add up to a better profit for the self builder.
Pros and Cons
One aspect of living feet away from another family is the noise. Young children, pets, music can all add together to make you rue the day you ever thought of building two joined homes. On the plus side you will have built another home to sell which was lower in cost than it would have been to build a detached house. Sharing a wall can also help insulation and lower heating costs.
Planning Permission
It is possible that when the plot is purchased it will only have outline planning permission for one house. Before parting with your money try to find out how close neighbours feel towards two new homes in the street. Will parking be a concern to them? The neighbours are the people who can stop your dream of building if they lobby the planning committees and make their voices heard. You need these people on your side. Speak to the planning officers and meet them onsite to discuss what would be passed and what will not. Your architect may also be able to advise on what will fit into the street without too much confrontation from objectors.
Rental Accommodation
What do you plan to do with the other semi detached home? Long term rental is a possibility. Good quality family homes will rent easily either through local housing associations or privately through rental agencies or with a major company that need homes for their employees. Hospitals and universities also need homes for staff and if you can liaise yourself rather than through an agency you will save the cost of the fees.
Family
Why not build the house with a view to providing a home to a son or daughter and their family? Perhaps an aged parent could live next door so that they have their independence but have family close at hand if needed. Later when family have moved away the two homes could be turned into one larger family home. If this is your intention then look at ways to make this possible when the semi detached houses are designed. Knocking through a few doorways is simpler than moving walls.
You might also like...