The Solicitor's Role in a Self Build Project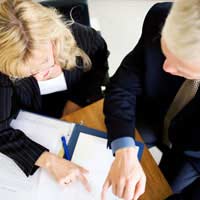 When purchasing a plot and planning to build on it a solicitor's role is a little more complex than it would be if you were just moving house.
Plot
Once you have found a suitable plot on which to build your dream home find a local solicitor who has experience of self-builds to handle the paperwork and transfer of ownership.
Checks
The Solicitor will check that the land belongs to the person that is selling it. He will also confirm that there is no right of way over the land and that there are no planned developments that could affect the plot in the foreseeable future. You can also check this out for yourself by talking to neighbours, local shopkeepers and by reading the local newspaper.
Address
At this stage the plot could be known as 'land adjacent to number 6…' it is imperative that your solicitor changes this to the news number that has been allocated by the council. He can also add the house name it if has one. Failure to do this could cause problems when you come to move home or if you need to use the property for a second mortgage as the address you live at will not match that at the land registry.
Ransom Strip
Ensure before purchasing the land that there is not a ransom strip between your home and the highway otherwise you will have to pay a fee every time you wish to pass over it.
Deeds
When all checks are done and you are satisfied with the results the solicitor will handle the transfer of deeds from the vendor via the vendor's own solicitor. It is at this point that delays can occur and you must make sure that both solicitors are working on the hand over. You cannot contact the vendor's solicitor but you can chase the vendor.
Auction
If you intend to buy a building plot as an auction you will need to instruct your solicitor to do all the searches before you make a bid. This could be costly, as there is no guarantee that you will win the bid on the building plot.
Planning permission
Ensure when purchasing the building plot that it comes with detailed planning permission, this means that at some time plans have been approved for a house to be built on the site. You can always apply to the planning department for a different house to be built on the site once you own it. These will be decided in a planning meeting and either passed or rejected. If the plot only has outline planning permission this means that you can build but a house design has not been passed. You may find yourself buying a plot hoping to build a four-bedroom house only to be allowed to have a two-bedroom home on the site. Check out this fact with the planning department of your local council before you buy the plot.
Oversee all the work done by your solicitor as mistakes can happen. Use a solicitor who has knowledge of the self-build system.
You might also like...