Managing Your Self Build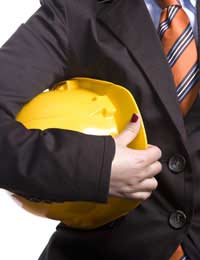 Managing a self-build efficiently means that you must know exactly what is going on at all times during the build not only onsite but with all aspects of the build.
Materials
It is not enough to know that there are adequate materials onsite for that day's work. You must have planned and ordered items in advance so that work is never held up during the build.
Hire
From time to time you will have to hire equipment such as diggers, cranes and tools. Ensure that you have ordered these items and arranged for their delivery on the days they are needed. Remember to return them and that the dates are corrected when you are invoiced.
Contractor
Building contractors are busy people and as such you must ensure that you book in advance the days that they are needed. Bad weather can cause a backlog of work and you must always check that they are still available on the days booked and not just rely on them turning up on the day they are required.
Services
Access to services such as water gas electricity and sewerage will need to be planned well in advance. You are liasing with large companies and paperwork can go adrift. Get everything in writing from these service providers and double check they will arrive on the time that was promised.
Permits
Quite often trenches will need to be dug across roads and pathways and road opening licenses will need to be applied for. Allow adequate time for this type of work.
Deliveries of large items may mean that cranes and lorries will block off the road to other traffic. Your architect and even the building inspector will know if permits are needed for these tasks.
Quite often if this work is subcontracted out you will not have the worry of applying for a permit - but check as hold ups on the day will be costly and time consuming.
Certificates
If you are receiving stage payments from your mortgage provider it is imperative that the person (normally your architect) is available to sign off each stage and produce the certificate on time. Any delay between end of stage work and payments can slow down the build as it will affect your cash flow.
Building inspector
Normally the building inspector will only need 24 hours notice before he or she visits the site to pass the next stage of the build. However the more notice you give ensures that you will not be let down.
Bespoke
Any part of the house-build that requires bespoke fittings or furnishings needs to be planned carefully. Although a fitted bedroom or kitchen arriving late will not hold up the actual building it could slow down the date that you move in and the processing of your VAT claim. Delays with staircases and windows that are made to measure will hold up the build.
Payments
When you are within one week of sending a certificate to your mortgage provider for your next stage payment it is worth notifying them that you are ready to claim. This will alert the person who has to process the paperwork and if by chance they will not be in the office they can arrange for a colleague to complete your claim.Managing a self-build efficiently will not only save money but will allay any frustration and ensure that the house is built on time.
You might also like...