Employing a Builder for Your Self Build Project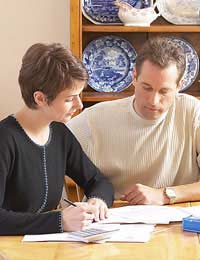 For many people when planning a self-build house it is not possible to build the house themselves. Perhaps work commitments will take them away from the build or perhaps they have the dream of their own home but are not confident to control the build.. The obvious choice is to hire a builder, but which one and of what should they be aware?
Architect
You would have used an architect to design your dream home, ask him for a recommendation as he would more than likely have worked with builders many times and can recommend reliable companies.
Friends and Family
You would have had friends, family and work colleagues who have had building work done. This may have been extensions and renovations. Keep their builders in mind but remember that a loft extension is not the same as a complete house build and you will need to be assured that the builder can take on the task of building your home.
Other Builds
Keep an eye out for other builds in your area. Most builders will put up a board when building; it is their way of advertising. Watch the site closely, is it a busy productive work site? Is it kept tidy and safe? Does it stand empty for days on end? If you think that the builder seems competent put him on your list for quotes.
References and Quotes
When approaching builders for quotes ask for references. Don't take written references at face value go visit the writer and check out the work. When discussing prices with the builder ask for a quote and not an estimate as estimates can rise alarmingly.
Deposits
Never pay up front whether it is the full price or a deposit. Good builders do not need money up front. A contract should be drawn up for stage payments throughout the build. Coincide these for when your mortgage stage payments are made – after the council planning officer or your architect has passed that particular stage. If the builder indicates that he needs the money for material be very wary, is his credit so bad with his suppliers that he cannot fund his own business. Perhaps consider ordering materials yourself and just hiring the builder for his labour instead. Build in a retention figure in case of any final problems.
Qualifications
Every builder should be registered with trade associations relevant to his skills. Check with the associations to see if any objections have ever been lodged against the builder and that his membership is current. This also applies to the architect. If there should be a problem at any point in the build you will be able to speak to the association and use their mediation service.
Cheapest
Get at least three quotes from builders but remember that the cheapest quote is not always the best one. This company will be building your home and you must feel comfortable working with him for what can be many months.
Receipts
Ensure that all receipts and invoices from the builder are dated, numbered and calculated correctly. Never pay out money until you have been presented with the invoice. You will need these documents for your accounts during the build.
Friend
Your chosen builder should be someone you feel comfortable with and by the end of the build would be someone you would invite to your housewarming party and recommend to friends.
You might also like...