My Self Build Was Too Far from Where I Was Living: Case Study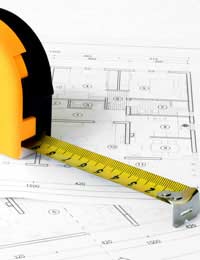 When considering where to self build a house the location is very important. For Barrie Smith his self build project in the South West of England became a problem and threatened the whole project.
Dream Build
"Like many people I'd always wanted to build my own house. I taught building skills in a local college in South East London but spent many of my holidays on Cornwall, near Penzance. I met my wife Sue in Cornwall during one holiday and we settled down in my terraced house in Kent and commuted each day for work. In our hearts was the desire to up sticks and move to the South West and we spent many happy hours surfing the Internet looking at homes."
Future Plans
"Little did Barrie realise that his dream would one day move a step closer to fruition. "We came into some money because of an inheritance. Not enough to buy a home but perhaps a nice car and a decent holiday abroad. We'd already planned a trip to Penzance so decided to put spending plans on hold and enjoy our break instead. While in Cornwall we came across a building plot for a three bedroom house and decide to blow all our savings on it. It was summer, the days were long and warm and before heading back to Kent we purchased a second hand caravan and installed it on our newly bought plot.
What Went Wrong
Our plan was simplistic, we'd leave work on Fridays and head straight to the plot and work on the house ourselves. We sold our house but made very little money due to the recession, and we rented a flat. The cash we had provided the footings and part of the brickwork but then money ran out. Applications for loans fell on deaf ears as lenders assumed the build was for a second home, a holiday home. We continued with the plan to just build as and when we could afford the next stage. Sue was then made redundant from her job so money became even tighter. We ended up not visiting the building plot for six months. Something had to be done.
Build or Give Up?
It was my parents that sat us down and tried to sort out our mess. They couldn't support us financially but were great with advice. Dad insisted we gave up the flat and moved in with them. This gave us some extra money. We did think we would finish the house and sell it, put the whole business down to experience and perhaps try again in a few years time.
We felt very sad when travelling to Cornwall to think we almost had a home in the most beautiful part of the country and would soon lose it. At this point Sue noticed an advertisement for a job only five miles away from the building plot. She suggested that if she applied and got the job, I could give up my job and move into the caravan. Then we could use her earnings to live on and I could continue to build the house as and when we had the money to do so.
Parental Support
My parents told us to follow our dreams. They said that if all else failed we could move back home with them and it was worth a shot to see if we could succeed. I resigned from my job, we stored most of our belongings in the parent's garage and set off for Cornwall. To supplement our income I took on several temporary jobs at a tourist attraction, which due to the height of tourism being in the summer months found me building the house over two winters. Not ideal but we managed to survive,
The Future
Our home was finally habitable six months ago and we waved an emotional farewell to the caravan – I jest! I enjoyed my work in the tourist sector so much that I applied for and won a management position so our future is secure.
In the future we want to build another home, this time with a built in income such as cottages that can be rented out to holidaymakers. It may mean buying an existing business and renovating or starting from scratch, who knows we are again surfing the Internet but this time it is with experience."
You might also like...