My Son Lives in Our Garden: Case Study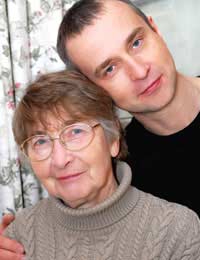 Rosemary Jenkins was fed up with her son living at home and under her feet so she sent him into the garden to build his own home.
Self Build Idea
Rosemary takes up the story, 'my son James trained as a landscape gardener and came home to live while he built up his business. I thought it would be cheaper for him to live rent free rather than spend money on renting a property that could be better used on his business. Gradually my home filled up with his business paperwork and my garage and garden with his tools and materials. I'll be honest and say that I had a rose tinted view of him out all day and in his room at night designing plant borders. I'd forgotten about the muddy clothes and my untidy son! It was whilst browsing through some new magazines that had come into the shop; I have a part time job in a high street newsagent chain, that I spotted a feature about building a garage with a flat over the top. I idled away the afternoon wishing James and his business were close enough for me to keep an eye on but out of my home so it stayed clean. He'd recently taken up playing in a band so there was the noise element to worry about as well. I took the magazine home that night and showed it to James.'
My New Home
James said, 'Mum showed me this magazine with what looked like a chauffeur's flat over a double garage. I couldn't quite see why we needed another garage although I did have Mum's stuffed to the gables with my gardening equipment. Then the penny dropped. We could build something similar in Mum's garden and I'd have extra storage to run my business from home without having to hire premises. I'd been thinking it was time to move the business away from home as Mum kept muttering about the mess and leaving adverts for flats around for me to see.
Build in the Garden
We went into the garden and measured the area needed. Mum's house is semi detached with a long drive at the side leading to her own garage and more garden beyond. There was rear access to the garden so if we had permission to build I wouldn't even need to use her driveway which would please the planning authorities. The next morning I went to the planning department and showed them what we would like to do. I was told by the duty officer that there didn't seem to be a problem but I'd have to put in plans, I left with a sheath of papers and my head buzzing with information. I had a friend who had studied to be an architect and he offered to do the plans and design for the house. By then we had thought a small house with integral garage would be better as we were unlikely to get plans approved for a home business at that stage. The plans sailed through and the neighbours were not bothered with me living at the bottom of the garden. They had known me since I was young which helped.
Self Build Mortgage
Mum was really great, she had paid off her mortgage after Dad died and she borrowed the money on her own home for me to be able to build the house. We had a proper agreement drawn up so that I would pay her back every penny over ten years. Sooner if I could. As the lighter nights drew in we started work. We hired a team to do the groundwork and also a bricklayer and roofer but I did as much of the work myself as I could. My mates mucked in with the labouring and Mum supervised. By September the house was finished and all I had to do was put her garden back to what it had been like before I'd turned it into a building site. That was a pleasure to do and I added a nice water feature as a big thank you to the greatest Mum in the world.
Next Door Neighbour
These days I am Mum's next door neighbour and we have our own space. She doesn't have the mess she had with me living under her roof although I do drop by quite often for a hot meal and to leave my washing!'
You might also like...