I Built a House to be Near School: A Case Study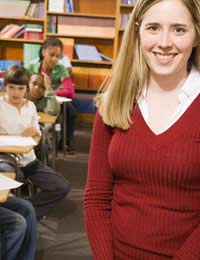 Sara Smith expected her son David to be accepted for Lakeside school, after all his elder brother and sister already attended and were enjoying their education. When she heard that David may well have to attend a school two miles away she had to take matters into her own hands.
Moving Home
"It was apparent that we would have to move nearer to the school which would give David a better chance of being accepted. We had eight months in which to sell our house and find another. I thought it would be easy but it proved to be otherwise. I am a single parent and fortunately work from home ninety percent of the time so living near to my job was not important. I signed up with all the local estate agents and scoured the newspapers and the Internet for suitable properties.
I could afford a small three bedroom house and was not worried if it was semi detached or terraced as long as there was a garden for the children and the dog. I could even live without a study if my bedroom had space for a filing cabinet and my computer. But it seemed that the world and his neighbour were beating me to houses within my budget."
Land for Sale
"While speaking to local estate agent and telling them of my plight, he said it was a shame I didn't want a building plot as he had heard of one only that morning and it had not yet been advertised. Furthermore the plot was only five minutes' walk from the school."
Researching Self Build
"I went home to start work but his words buzzed in my brain. I switched on my computer and researched self builds. It was so civilised, in the past I assumed everyone built mansions in acres of land and didn't realise that people like me were building homes for 'normal' families. By the evening I had been to the library borrowed every book on building and cleared the shelf at the newsagents of all the current self build publications. Early the next morning I was on the telephone to the estate agent asking to see the plot."
Site Visit
"He took me to the building plot and introduced me to the owner, who told me that he had purchased the plot intent on starting his second self build only to find his work was taking him overseas for five years. I explained my predicament and the speed I needed to have a home to live in so that David could attend Lakeside school. I was worried it would take too long to build a house and we would miss the slot to apply for the start of term.
The owner of the plot was brilliant; being a parent himself he could appreciate my problem and told me of ways to speed up the process. He suggested that we hired a large trailer type caravan and lived onsite while the house was being built, this way we already had an address to give to the school. He also suggested having what I can still only think of as a flat pack house. It was a timber frame construction that went up in days and shortened the build by months."
Moving Home
"For me it was simple, my own house was snapped up and the children spent the summer living in the trailer caravan while the builders, that had been recommended, got on with the build. I visited a company who showed me several types of houses that would be acceptable to our planning authorities and I even had room for a study and a bedroom for each of the children. The summer months were good and by early September, one week before David started at Lakeside we moved into our new home. Supervising the building site was easy as I could work in the caravan and keep an eye on the site at the same time."
A New Career
"I enjoyed the build so much that I am thinking of building a second house as a business venture in the near future."
You might also like...