I Built a Home and Made it a Business: A Case Study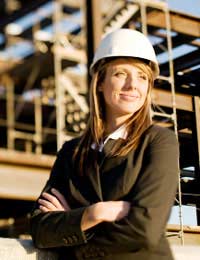 Linda Oxby and her husband David built their own home in 2003. David had a busy job that took him away from home for weeks on end so Linda undertook the job of site supervisor and managed the day to day work on the building site.
Management
"We had decided at the beginning of the build that I would be the one to oversee the build. It made sense as we needed David's income to pay the mortgage and I could go back to my accounts management job at a later date. With the Internet I kept in touch with David and the build ran smoothly from start to finish. My work in accountancy and management meant that I was comfortable working with the myriad of paperwork and controlling the workers on site. We had hired a good team of workers and there was never a problem with their work. Each was self employed and we paid an agreed day rate for the job so no one shirked their job."
Advising Others
"After we had moved into our home we had a housewarming party and invited colleagues of David to look round the house. One couple, Sue and James Jones, were interested in building their own home. It seemed they already had a plot at the side of the house they lived in but had no idea how to carry the project forward. They asked if I could help them and straight away I said yes. I had half heartedly started looking for a job but the chance to spend another summer working on a new house was just too tempting to miss."
Team Work
"I hired the same team that had worked on our house and after helping Sue and James to decide on the design of their new home and instructing an architect to draw up plans and have them passed at the relevant planning meetings we went ahead. Instead of donning a suit and going to the office each day I put on my work clothes and went to the site office. As is always the case the house build attracted passersby to stop and talk about the project. One chap stopped most days and spoke of his own desire to build a house. Sadly his wife was not in the best of health and as her carer he was not free to oversee a house project or to work on site for many hours at a time."
Full Time Job
"Jack became my next project and what a delightful job it was. His wife Jean was able to come to the site when she felt up to it and we became firm friends. Because of her mobility problems we worked together to make the bungalow as user friendly as possible. It became a challenge to have the house and gardens as perfect as possible for someone who used a wheelchair. Before I knew it I had three house build projects on the go and had found myself a full time job and one that I love.
"In the next year David is going to take early retirement from his job and we plan to build our own houses to sell. I want to specialise in homes for the disabled as there seems to be a need for good quality homes that do not look too clinical. Who'd have thought that working on our own house build would give me a new career?"
You might also like...