Log Burning Stoves: Do You Need Planning Permission?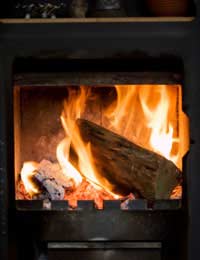 Traditional pot bellied stoves, black leaded, glass fronted stoves set in inglenook fireplaces through to large works of art situated in the middle of the room. The choice of which log burning stove to have in your newly built has never been harder. Faced with the variety of stoves on offer stick to what will suit your home. Log burning stoves are also very handy for summerhouses and outside workshops which need to be heated but not all the time.
Size
Like any heating in the home it must be adequate for the size of the room. Too small and the home will never heat properly. Too large and fuel would be wasted and the home far too hot. The supplier of your log burning stove will be able to calculate your required size of stove. Take room dimensions with you when shopping for a suitable heater for your new home.
Planning Permission
As a rule you do not need planning permission to install a log burning stove as it falls under general permitted development rights. However you house may be in a conservation area so ask at your planning office before ordering your stove. Also, some areas do not allow flues to extend more than one meter from the road or be seen from the road. So it is worth making enquiries.
Water and Heat
It is possible to have an integral back boiler to your log burner that will supply hot water and perhaps even supplement heating radiators in your home. Yes, these are fine when the log burning stove is being used in cold weather but come the warmer months, when you still require hot water a secondary system will be required.
Wood
Before installing your log burning stove make sure that you have access to a plentiful supply of wood. This could be from your own land but quite often a delivery will have to be made from a supplier. Yes, you can use coal in most stoves but wood is sustainable and by using a log burner you will be
Flues
A stove needs a flue in order to work and the size of the flue depends on the log burning stove being fitted. The flue can run up an existing chimney or through the roof as a standalone design. There are building regulations for the installation of the flues which must be adhered to. For any self builder who is not sure of how to fit a flue system for their stove the supplier of the stove will have staff to advise the purchaser and even fit the stove.
Accessories
Once you have chosen the log burning stove for your home you will need somewhere to store the logs near to the stove. A simply basket or perhaps a stand that holds the logs and supports the stove is another option. Kindling, firelighters, matches and an assortment of items to keep the stove clean will also need a home so that the stove areas looks tidy and children are not tempted to play with them. A metal bucket to carry ash outside and wood shed or store to hold extra logs and keep them dry is another consideration.
You might also like...