Build Your Own Retirement Home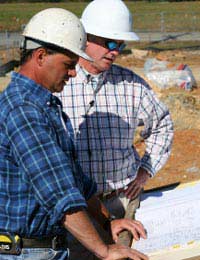 As we reach middle age some thought must be given to where we will live once we retire. Many people eventually move into retirement homes where they can be looked after but what about the self-builder? Is building your own home for your retirement years a possibility?
Building Plot
Finding a suitable building plot is important for any self-builder but for someone contemplating building their retirement home there are certain considerations. When inspecting building plots imagine the finished home on the land and ask yourself is the land flat or will there be steps and different levels to the property and home? Is the plot close to public transport or will you always need to drive? The time may come when you are unable to drive a car and to be too isolated could be a real problem.
Design
A house or a bungalow what is your choice? Much depends on planning permission and the size of the plot but consider how stairs would be negotiated when one is a little less agile. Having separate rooms downstairs as opposed to an open flowing area will provide bedroom space if ever you cannot negotiate stairs due to illness. Will the stairs support a stair lift? This may be a silly thought but when you're older and perhaps not so steady on your legs, a stair lift can mean the difference between staying in a home you love or having to move. A downstairs bathroom is another consideration but why not make it slightly larger to accommodate a shower? Again a useful aid if forced to sleep downstairs. In fact if there is the room why not incorporate an annex or granny flat to the self-build? This can be let out to provide income in old age or to house staff.
Build It Yourself
Many self-builders like to be hands on and experience the thrill of building their own home. If you have already reached retirement age then you have the luxury of time to build as you please but it will cost. If you are borrowing money whilst you build and are perhaps living in your present home the interest will add to the overall cost of the build. There again you may be living on the plot in a mobiles home which is great in summer time but come the winter can be a miserable existence. These experiences are fine for younger people but when we reach a certain age it's not such a wonderful experience. Better perhaps to manage the build with a good team of builders at your command. It will speed along the build and still give a sense of pride to your dreams.
Helpful Aids
Simple things like lowering worktops to suit a wheelchair user and raising flower beds in the garden are things we can arrange for ourselves to make life easy. Walk in baths, safety equipment, emergency alarms, handrails by the bath and toilet and slopes rather than steep steps can also help the retired person live in their own home independently.
Age UK (once called Age Concern and Help the Aged) are a real boon to the older person with advice on all aspects of life from home assistance to grants and benefits, holidays and adapting the home to live comfortably in ones old age. They are also able to arrange safety checks on your home to make you feel secure if you live alone.
Resale Value
With a home built specifically for the older person resale should not be a problem. The baby boomers have a high percentage of home owners amongst them who are now in the retirement bracket. A house or bungalow suited to their future needs will sell with ease.
You might also like...