Finding Information on Building Your Own Home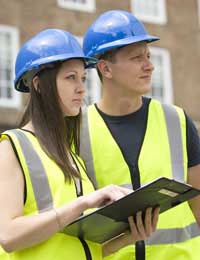 Planning a self-build project can be a daunting task and a lonely one. It helps to be able to speak or correspond with other self-builders, but how do you find them?
Magazines
There is a plethora of magazines about home improvements and self-builds. Read the letter pages and articles, you may find someone has written who lives in your locality that you will be able to make contact with. Books that are spin-offs from television programmes about building and renovation may also have forums and contact details.
Online
Many people are now writing Blogs and websites about their building experiences. Communicating with these writers will bring friendships and contacts that could prove valuable. Start you own Blog it will attract people who may be thinking of building their own homes in the future and would be interested in helping you for the experience.
Forums
Many of the self-build and renovation publications have websites to which they have attached forums for their readers. Registering with this forum will be invaluable, as you will be able to strike up friendships with self-minded people and ask questions about your build as well. Looking back over earlier posts you will find information about products and read about problems other builders have encountered.
Further education
Quite often those hoping to self-build in the future sign up for classes at further education centres that have courses in all aspects of the construction industry. Here you will find not only the hobby builder but also those hoping to make one aspect of the construction industry their trade. These people will have a common interest and here you will find help and hopefully friendly contacts in a trade that may be alien to your own occupation.
Exhibitions
Visiting exhibitions for home improvement and self-building will introduce you to many people. Quite often these exhibitions have short seminars where you can attend and ask questions.
Timber frame homes
If you are thinking of using a company that produce timber framed homes you will find that they are with you throughout the self- built experience. These companies will have their own forum for users of their products and you will quickly make friends with fellow users of the company's services.
Trades people
When registering with companies for building products and services you will find that their representatives are interested in your product. Remember it will be a little unusual from their normal everyday customer and to talk to you will brighten their day.
Building site
When out and about look for small building sites you may find that they are follow self -builders. Introduce yourself and offer help - it is all experience that you can put to good use.
Subcontractors
If you employ subcontractors and labourers the likelihood is that you will be working with them for many hours each day. It is normal to forge friendships with fellow workers and you will find that your self- build will not be the lonely experience that you expected it to be.
By being friendly to other builders, reading publications and chatting online you will soon gain experience and information about self-building your dream home.
You might also like...