Clearing the Site Before Building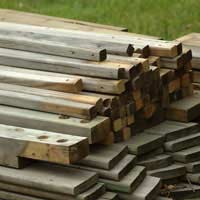 Before even the footings can be dug the building plot has to be cleared and prepared ready for the real build to begin. Within a few days your site will be cleared and ready for work to commnece.
Waste Removal
One of the things you can research whilst the plans are still being considered in the planning department is how you are going to remove waste from the building site. In the past when you have been doing DIY work in the home you may have been able to take waste material to the local council owned refuse site. As a self-builder you will be classed as a professional builder and could be charged or turned away. Research skip hire companies in the area, negotiated a rate for the build as you will need many skip collections. If you have a small area for the skip to stand consider a mini skip. Large, strong polythene sacks are also very useful when rubbish has to be carried to the skip.
Protective Clothing
If you sustain an injury while working on the building site it could hold up the build for possibly months. Invest in steel-toe boots, protective gloves, overalls and a hard hat. Ensure there are spare hard hats for anyone visiting the site during the build. Eye shields should also be used in a dusty environment and when using grinding equipment.
Plants and Trees
It is possible that the site you intend to build upon was originally part of someone's garden. There could be plants, bushes and trees that will need to be removed whilst clearing the site. See if these plants can be sited elsewhere if not perhaps someone would be happy to take them off your hands. Ensure all roots are removed, using chemicals to kill them off if necessary.
Services
It may be likely that there are already services and service pipes running through the site. Mark them well so that they are not damaged and so that they can be found when you are ready to connect the house to the gas, water, sewage and electricity.
Asbestos
Be very careful when removing old buildings, as there may be dangerous asbestos lurking. This needs to be removed by a specialist company. Your local council can advise of how to contact suitable companies who provide this service.
Fencing
While there is access to the complete site arrange to have the fencing fitted. Not only will your boundaries be defined but also the build will be secure when no one is on site.
Shed
Install a strong shed or portable building where all tools and materials can be stored when not in use. This shed could also be a shelter during bad weather and double as the site office so purchase one of a size that will be large enough for all these uses.
Convenience
You have to supply toilet facilities for all workers on your building site. Portable loos can be hired from the same place that you hire your building tools. Remember to keep it clean!Once the site is cleared and secured you are ready to start the real work - building your dream home.
You might also like...